Shree Ayengar (ERYT200/RYT500) was born in the city of Ajmer, Rajasthan, India. She immigrated to the United States in the autumn of 1969.
Shree completed the HAYC Teacher Training Program RYT-200, in 2006, under the guidance of Susan Van Nuys and Doug Keller.
Since her first training, she has continued to study yoga in many rich traditions, including Hatha Yoga, under the direction of DC-based Iyengar master, John Schumacher. In 2011, Shree traveled to China to attend the China-India Yoga Summit under the guidance of Yogacharya B. K. S. Iyengar.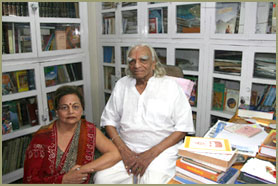 Shree Ayengar being blessed by Yogacharya B.K.S.Iyengar in Pune, India
Two years later, she earned another RYT-200 certification under Debra Mishalove at Flow Yoga Center, followed soon thereafter by RYT-300 Prana Flow certification from Jessica Lazar's Samudra-affiliated Prana Vinyasa School, which was assisted by Greg Marzullo and overseen by yoga innovator and activist, Shiva Rea. Shree's teaching style: Shree continues to draw on the many denominations of yoga that have influenced her own individual teaching style. Her emphasis is on alignment. She has both the gift and the conscientiousness of teaching her students well and loves what she does. Shree teaches at McLean Racquet & Health Club, Elite Fitness Concepts, Flow Yoga Center, Corporate Fitness Centers and Private students in Great Falls and Mclean, in Northern Virginia.